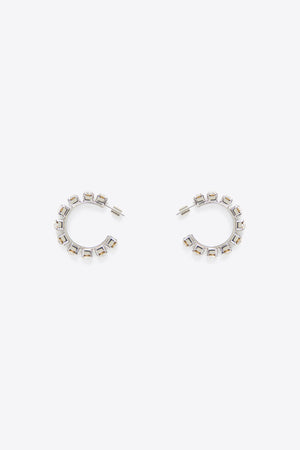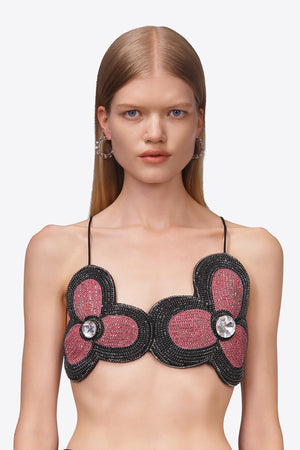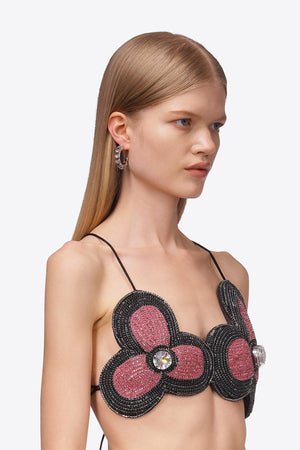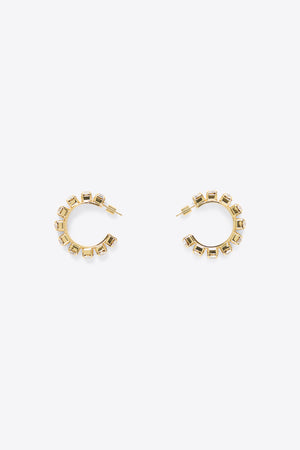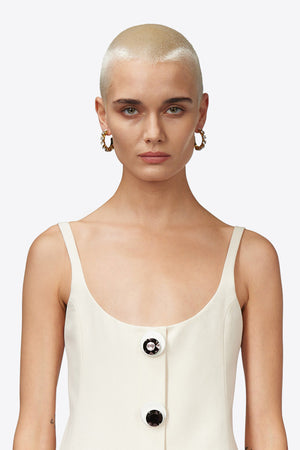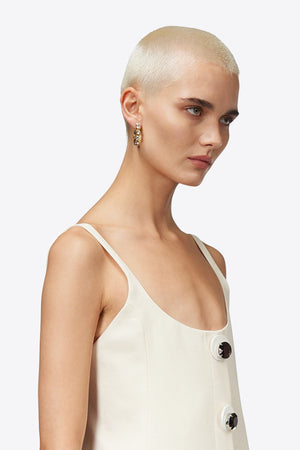 Small Classic Round Hoops 1"
Classic 1" inch crystal hoop earring. Features post back closure. Available in Gold/Clear & Silver/Clear.
- Imported
- Crystal Glass Stone & 100% Plated Brass Cupchain
SHIPPING
Please allow up to 2-3 business days for all orders to be processed, regardless of shipping method selected.
We offer complimentary UPS Ground® shipping for domestic orders, and complimentary DHL shipping for international orders. Duties and taxes are the responsibility of the customer. You can track parcels via UPS or DHL's websites.
PRE-ORDERS
Pre-order status relates to an item which you are able to purchase in preview from the new collection or as limited edition. This typically means that the item is still in production when ordered and is not immediately available in our fulfillment center at that time. Once at checkout please verify if the product is in pre-order status and the estimated ship date associated with this item. If an order contains a pre-order item, the entire order will not ship until all items are in stock unless otherwise specified to our customer service team. Partial fulfillment of international orders is not available at this time. Expected ship dates may vary for pre-orders and are subject to change. 
EXCHANGES & RETURNS (U.S.)
To initiate an exchange or return please click here. Additionally, make sure you meet the following requirements:
- The exchange or return must be generated within 30 days of order fulfillment and shipped back within 7 days of initial request.
- The item must be in its original condition. This means we will only accept your exchange if the item was not worn or altered.
- The exchange or return must include the item's original packaging and attached tags.*
*In the case of exchanging footwear, please make sure to include the original shoe box, as this is considered part of the product.
Initial shipping fees are non-refundable. All domestic and international return fees are the responsibility of the customer. We are currently unable to accept international exchanges.
INTERNATIONAL RETURNS (Outside U.S.)
To initiate a return, please reach out to customerservice@area.nyc for further assistance.
- All international return fees are the responsibility of the customer.
AREA reserves the right to reject returns that do not comply with our return policy. Returns that do not follow our policy may be sent back to the original shipping address at our discretion. 
REFUNDS
Please allow between 7-21 business days for your return to be processed once received at our facility prior to refund.
Once your return is processed, a refund confirmation will be sent to the email address provided at check out. Depending on the refund method selected when initiating your return, a refund will be issued to your original method of payment within 5-7 business days of return processing. Please note your bank or financial institution might require additional time to process the refund to your account.
FINAL SALE
Items denoted as 'Final Sale' are not eligible for return or exchange. No refunds will be made on final sale merchandise. 
CUSTOMER CARE
Please contact us with questions related to your order at:
CUSTOMER SERVICE & GENERAL INQUIRY:
SIZE GUIDE
| Size (US) | Bust | Waist | Hip |
| --- | --- | --- | --- |
| 0/ XS/ 24-25 | 31.5" | 24.5" | 35" |
| 2-4 / S/ 26-27 | 33.5" | 26.5" | 37" |
| 6-8 / M/ 28-29 | 35.5" | 28.5" | 39" |
| 10-12 / L/ 30-32 | 38.5" | 31" | 41.5" |
| 14-16 / XL/ 33-34 | 40.5" | 33.5" | 42" |
SIZE CONVERSION
| US | UK | AU | FR | IT |
| --- | --- | --- | --- | --- |
| 0/ XS/ 24-25 | 6 | 6 | 34 | 38 |
| 2-4 / S/ 26-27 | 8 | 8 | 36 | 40 |
| 6-8 / M/ 28-29 | 10 | 10 | 38 | 42 |
| 10-12 / L/ 30-32 | 12 | 12 | 40 | 44 |
| 14-16 / XL/ 33-34 | 14 | 14 | 42 | 46 |
SHOE CONVERSION
| US | EU | FR | UK | JP | CH |
| --- | --- | --- | --- | --- | --- |
| 4 | 34 | 35 | 1 | 21 | 21 |
| 4.5 | 34.5 | 35.5 | 1.5 | 21.5 | 21.5 |
| 5 | 35 | 36 | 2 | 22 | 22 |
| 5.5 | 35.5 | 36.5 | 2.5 | 22.5 | 22.5 |
| 6 | 36 | 37 | 3 | 23 | 23 |
| 6.5 | 36.5 | 37.5 | 3.5 | 23.5 | 23.5 |
| 7 | 37 | 38 | 4 | 24 | 24 |
| 7.5 | 37.5 | 38.5 | 4.5 | 24.5 | 24.5 |
| 8 | 38 | 39 | 5 | 25 | 25 |
| 8.5 | 38.5 | 5.5 | 5.5 | 35.5 | 25.5 |
| 9 | 39 | 40 | 6 | 26 | 26 |
| 9.5 | 39.5 | 40.5 | 6.5 | 26.5 | 26.5 |
| 10 | 40 | 41 | 7 | 27 | 27 |
| 10.5 | 40.5 | 41.5 | 7.5 | 27.5 | 27.5 |
| 11 | 41 | 42 | 8 | 28 | 28 |
| 11.5 | 41.5 | 42.5 | 8.5 | 28.5 | 28.5 |
| 12 | 42 | 43 | 9 | 29 | 29 |
| 12.5 | 42.5 | 43.5 | 9.5 | 29.5 | 29.5 |